Stevens Model 311 Shotgun Help

Stevens 311 Plunger Replacement       From Driftwood Johnson

Pards

I have been overwhelmed with e-mail regarding the $7 fix to help keep a Stevens from closing halfway. So I got smart and decided to try and post the solution (and gave Marauder permission.)

Disclaimer: I did not come up with this solution, another Pard did, and I am just passing the information along. I'm sorry to say I don't remember his name, but the original information and the pictures are from him, and we owe him a debt of thanks, because this solution worked for me.

What follows is the information on the $7 fix for Stevens 311 Shotguns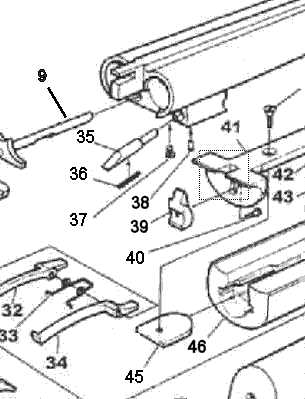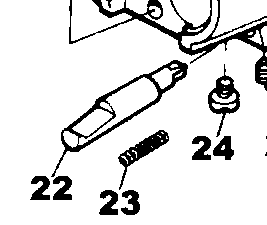 The replacment is shown above.  Noticd that it is smooth - no bump. The part numbers often change.

Note Part Number 22 - the cocking lever.

If yours looks like this - with a bump on the end, you are eleigible for the replacement that may help keep your gun open.

If your Cocking Plunger has a bump, this fix should help. If it already looks like the one in the Replacement Cocking Plunger, don't bother, this fix won't help. It is the bump at the end that makes the difference. Or you can file down the bump to help.

Ordering information:

Numrich Gun Parts Corp.

Orders: (845) 679-2417

Item #  167570L (Cocking Plunger)

Gun part is for - Stevens 511 A

We have had trouble getting the part because the numbers change and Numrich doesn't seem to know the difference.  Updates to follow as several folks are researching this.

Installation:

Separate barrels from receiver. Turn barrels upside down. On the top surface of the lug that contacts the hinge pin you will see a slotted screw. Remove the screw. Remove the cocking plunger (be careful not to drop the spring). Remove spring and put in new cocking plunger. Install in reverse order.

This fix works best with uncut barrels, the longer the better, since gravity still assists in keeping the barrels open. It is not a complete solution, but does help a lot. You still need to push the barrels open once spring resistance is felt, but there will be less tendency for them to close. Mine stays open by gravity. It is a 16 gauge with 28 inch barrels. Not a bad fix for under $10. Five minute installation.

After some investigation the part is for  Stevens Model 511 and Model 511 series A shogtuns, not for a 311 H as thought.

Currently, the item´s number is

167570L

For More Details about the Stevens 311 Shotgun, see Bugs Bonnie's article provided by Reverent Doc:  The two-part article is in graphic formats listed below.